I'm a Christian by grace and a screenwriter by trade. For 23 years, all of my assignments were secular — comedies, educational programming, and, since I live in Silicon Valley, technology scripts that tell stories with emotion and humor. My first film for a faith-based market was produced in 2015.
Being a Christian helps me deal with the challenges of this career. It also adds a few. For example, a producer once described my teen hero in a poignant coming-of-age screenplay as "whitewashed" due to the lack of profanity and pants-dropping. A Silicon Valley client stopped hiring me after interviews appeared online about my faith. But these situations are rare and at this time in my life, I know to my bones there's nothing that can replace the power and peace I have from following Jesus. I'm grateful and I'm all in.
Here are challenges you may encounter.
CHALLENGE 1: BASIC NECESSITIES
Ideally, as a screenwriter, you're talented, well-trained, entertaining in a pitch, and have relatives in the film industry who owe you favors. You've written more than one screenplay and won awards. You're ambitious, young, and live within 20 miles of a studio. If any of these do not apply, they are your first challenges.
CHALLENGE 2: UNCERTAINTY
The hard truth is that, even for the talented Christian with the purest motives and most eager desire to serve, among all of God's beautiful and precious promises, he never promised anyone a film deal.
CHALLENGE 3: RISKY CAREER, TOUGH INDUSTRY
Maslow's hierarchy of needs reveals potential problem areas.
NEED FOR FOOD, SHELTER, AND OTHER PHYSIOLOGICAL IMPERATIVES: For these, money comes in handy. But, of the 50,000 screenplays registered with the Writers Guild each year, as few as 150 films are released. Many Guild members report annual earnings of $0. Paychecks are reduced, sometimes drastically, by commissions to agents, managers, entertainment attorneys, and taxes.

NEED FOR SAFETY AND SECURITY: There can be long stretches between gigs even for the most successful writers. Deals fall apart and projects fall through for reasons beyond the writer's control. Some writers find it hard to work in this fog of "no."

NEED FOR LOVE AND BELONGING: There are great collaborations and loyal friendships, but you'll also find fierce competition, jealousy, ageism, and all the usual behaviors that erupt from naked, selfish greed or despair. All writers endure blunt critiques, rejection, and harsh reviews. Many work in isolation.

NEED FOR ESTEEM AND RESPECT: Screenwriters get rewritten, replaced, and rejected. In a pitch meeting, you may feel awkward, desperate, or like an organ grinder's little monkey. The writer may not be welcome on the set. Your best lines may be casually cut or attributed to the stars who say them. As writers age, most are considered less relevant.

NEED FOR THE SELF-ACTUALIZATION THAT COMES FROM REALIZING PERSONAL POTENTIAL: Finally! This is why we write. Writing allows us to probe human nature, explore deep themes, and work through complex emotional territory. But I highly recommend celebrating your self-actualization sometime between typing "Fade to Black" and the organ grinder's monkey routine.
Every single one of these needs is addressed in the Bible which provides wisdom and comfort in times of struggle and redirects fractured priorities. But this is a tough industry. When power and big money are involved people often, shall we say, deteriorate. "For where you have envy and selfish ambition, there you find disorder and every evil practice." (James 3:16) The craving that permeates the heart can be torture. Keep your own eyes on true riches (Romans 10:12-13) and be compassionate because there can be a lot of pain behind beautiful faces and bright smiles.
CHALLENGE 4: NEGATIVE PERCEPTION OF CHRISTIANS
The best films are stories of redemption — people striving, failing, finding redemption, and being recommissioned with hope. Seems like a good fit for Christians, right? Christians are redeemed sinners, nothing more or less. But have you ever noticed that when someone quotes the Bible in film it's often a clue that something is "off" about them? Here are some of the most cliché "Christian" characters on film and TV:
Judgmental hypocrite.
Repressed, prejudiced person.
Naïve do-gooder.
Unintelligent, gullible person, often from middle America.
Ignorant, superstitious person, often from southern America.
Psychotic maniac or serial killer, quoting Scripture.
Frothing-at-the-mouth evangelist (don't forget the southern accent!)
Magical misfit who summons God to do his earthly bidding.
Delusional person, believes he sees or actually is the Messiah.
Formerly religious person, now bitter (don't forget the drinking scene!)
Secret pervert.
Whether these stereotypes are due to lazy writing, ignorance, hate, or something else entirely, this prejudice creates obstacles to selling faith-based or even faith-inclusive stories. To be fair, every self-proclaimed Christian does not behave like a follower of Jesus and certainly every person in media does not persecute Christians. In fact, the producer of A.D. and The Bible mini-series, Mark Burnett, was just named president of MGM Television. But at times it can feel as if the only on-fire Christian likely to illuminate an industry meeting is Joan of Arc.
Filmmaking is collaborative and Christians working in the industry have limitations similar to other workplaces. An executive at Tesla may be a Christian, but that doesn't give him the power to stamp "John 3:16" on each steering wheel. What Christians can do is push for a faith-inclusive atmosphere, make worthwhile projects, and continuously strive for excellence.
CHALLENGE 5: FAITH-BASED MARKETS
Whenever a faith-based project is financially successful, interest surges. Following hits like
The Passion of the Christ
and
The Bible
, studios work to capture the same audience and earnings with other faith-based projects. Trouble arises, in my opinion, when these follow-up projects are created by people who don't understand or respect the material or the audience (see clichés above). They attempt to create art for the fly-over states which they apparently visualize as populated by gophers, adults with childlike minds, and toothless snake handlers. When these ill-conceived projects fail, the commitment to faith-based film evaporates.
Another model involves churches raising funds and rallying talent from their own media programs and pews to make a film. Here, the filmmakers are passionate about the material and the audience, but the budget is microscopic. This makes it hard to deliver the quality performances and cinematography people are accustomed to seeing onscreen. To avoid alienating their core audience, filmmakers tread a fine line when delving into painful issues or showing honest depictions of the ugliness in the world. As a result, stories can sometimes be simplistic or predictable. Key messages may be preached in one big speech rather than integrated into the story, sometimes to satisfy a group financing the project. Still, these films are finding audiences and the grassroots support of people who are desperate for films that don't disrespect their values and mock their beliefs. As audiences grow and these heroic efforts become financially viable, quality improves.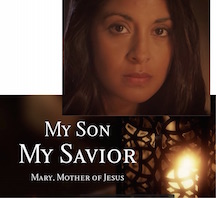 CHALLENGE 6: ADAPTING SCRIPTURE
In 2015, I wrote
My Son, My Savior
, the story of Jesus' life through the eyes of his mother. It was a beautiful experience, spiritually and professionally. It wasn't my first adaptation, but I realized an immediate challenge in adapting Scripture for film is the awesome responsibility to truth — you potentially infuse meaning or editorialize with each idea and word not in Scripture. A second challenge is that Bible adaptations depict phenomenal, miraculous events. These require creativity to portray and viewers must be fully absorbed in the story to be convinced. Throughout, I had guidance from four wonderful content experts and my own son who is a pastor.
CHALLENGE 7: THE EMOTIONAL JOURNEY
Film must touch emotions, a challenge when sharing a very familiar account.
My Son, My Savior
shifts the point of view to Mary, a devout Jewish girl eagerly awaiting the Messiah along with her people. Every beat of her story points to Jesus as the promised Messiah, but we focus on Mary as she gives birth in a squalid barn, flees from a king determined to kill her baby, watches as her son's destiny unfolds, and weeps at his feet as he is as tortured to death. Many viewers know this story well, but if we experience it through Mary, it's no longer a familiar reading or a beautiful stained glass window. It's an emotional journey with the woman who knew and loved Jesus like no other. His sacrifice is even more emotionally powerful on film when we feel her sacrifice. Ideally, the experience lingers and viewers want to learn more.
CHALLENGE 8: WORK
So, find your role and approach every challenge "as shrewd as snakes and as innocent as doves." (Matt 10:16) Work hard and "Whatever you do, work at it with all your heart, as working for the Lord." (Col 3:23) May you be blessed and may your work be a blessing to many others!
---
Translate this page into your language
Return to original language with "show original" button at top left.