Introduction
We have reached a time in the history of the ELS and the WELS where we have artists who have been trained in a classical figurative tradition and have professional design skills. As a culture, we haven't scratched the surface of how artists may serve the church in the sanctuary as well as in the electronic world.
These artists are longing for ways to praise God through the use of art in the Confessional Lutheran Church.
The visual arts have been neglected in our history of liturgical arts. An effort was made in the early 20th century with itinerant painters doing small altarpieces for some of the country churches in both synods, but much more can be done.
Three artists who have worked for both the ELS and the WELS present here their perspectives on artwork for the church.
---
Asking for Art by Jason Jaspersen,
from New Ulm, Minnesota USA
The parable of the "talents," recorded in Matthew 25, gives us a picture of God's will for his people. In it Jesus paints a word picture contrasting those who put their blessings to work, and those who hide and bury what they have been given. How have we used the gifts God has given us? Have we invested what he has entrusted to us? Or have we buried God's gifts out of fear of using them improperly? How can we "invest" blessings to maximize their returns?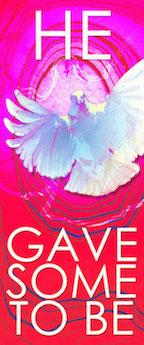 As Confessional Lutherans we have a great treasure in a pure teaching of God's word. We rightly cling to a proper understanding of Law and Gospel. We insist on salvation by God's grace alone. It is our responsibility to carry this precious treasure, weak and fragile jars of clay though we are, and pass it on to others in our time. This high privilege of sharing the gospel has been carried out since Adam and Eve told their children about God's promised Messiah.
Ours is an increasingly visual age. As Paul advocated being all things to all people, we also can meet the needs of today's lost souls with a visual interpretation of God's timeless truths. Our fellowship has been hesitant about this in recent generations for various reasons. Perhaps artistic endeavors have somehow been interpreted as "impractical luxury," "distracting," or "too Catholic." Maybe we haven't had clear directive from our leadership on this issue or haven't seen convincing precedents. What if we are simply ignoring a great blessing from the Lord?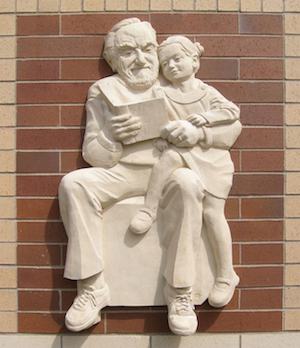 There are generations of talented and trained Lutheran artists looking for ways to serve. Millennials, Gen-Xers, and Boomers with tremendous creative blessings hold a great untapped potential for ministry. Today's artists have a unique blend of cultural influences which God has caused for his specific purposes. Ancient artistic traditions, the 20th Century's restless movements, shifting contemporary trends, and a God-given heart of faith all mix together in the minds, hands, and souls of our creatives. The artists are among us. But are we burying our "talents" like in the parable? What would they produce? God only knows. We won't know unless we ask.
There are tools to help us ask for art. In recent years websites such as Lutheranarts.org and Lutheranart.com have been developed to help connect potential patrons with potential artists. These sites provide resources such as links to liturgical artists, suggestions for planning and communication, and ideas about installing art. These are tools custom-designed for linking Lutheran creatives.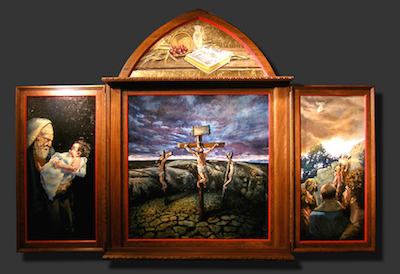 Our artists need invitations to serve. A culture of patronage would help to realize the creative potential of Confessional Lutheranism. To properly "invest" these creative blessings, there needs to be an atmosphere among us that values artists to the point of trusting them, engaging them, and paying them. Churches, schools, organizations and individuals can come to see artists as opportunities. Artists can bring unexpected solutions to stimulate our faith, educate our eyes, and communicate Jesus to future generations.
As products of a visual age, today's youth are especially suited to visual communication. Providing opportunities for today's creatives will only encourage more young people to apply their artistic talents to Gospel ministry. Let us wisely invest in our creative blessings that they may grow and spread in our time of grace and continue for generations.
For more images of Jaspersen commissions:
http://jjjaspersen.com
---
The Commercial / Liturgical Art Gap by Jonathan Mayer,
from Seward, Nebraska USA
More often than not, I find myself in the unenviable position of approaching my church with an artwork proposal. I'll presently explain the "unenviable" part, but for perspective, observe what usually happens when a person with some musical talent joins a Lutheran church of any size. Unless you're lucky enough to live in one of several parts of the country with a surplus of talented musicians, chances are good that this person will be politely inundated with requests to use his or her skills in the church. (My wife has experienced something to this effect.) And while musicians are not always paid well, Lutheran churches have little difficulty making use of their talents.
Compared to the plight of the Lutheran church musician, though, a Lutheran liturgical artist often finds himself in the position of having to peddle his services to churches. Artwork hasn't been viewed as a necessary component of our worship for the better part of a century. When I've approached my different home congregations in the past about commissioning liturgical art, I've detected the same sort of reaction that I would expect if I'd been a Cable TV salesman. It's seen as superfluous — possibly nice, but possibly wasteful — in any case, not worth a large investment of time and money.
My attempts to bring liturgical art into Lutheran churches have mostly been unsuccessful. If I were to discuss these at any length, it would start to sound like a pity-party. However, I've found that getting Lutheran churches interested in new graphic identities has met with greater success. I think examining the differences between a logo design and a physical work of liturgical art may be telling:
Logos are everywhere — we're fluent in the language of commercialism. We readily understand the power of connecting an image with a product or service (branding), and we recognize the ability of a logo to convey immediately what we should expect from that product or service. Ironically, most of us are not fluent in the visual language of the Christian church — its symbolism, its stylistic idioms, or its power to convey meaning and embody beauty. Only a few generations removed from it, we often consider it alien ("too Catholic") and incomprehensible.

Because we understand the power of graphic identities, we have at least some sense of their economic value. The same person who objects to paying $1,000 for a painting might not mind paying $1,000 for a well-designed logo. The difference is that a logo is more readily valued today for its utility; the painting is seen as merely decorative. (While this is a general observation, I've been blessed with clients who also appreciate art in an historical, liturgical setting.)

In this high-speed, mass-produced, disposable culture, we don't often deal in terms of permanence. Our architectural solutions to worship are temporary; we assume that the space will be knocked down in 50 years when the drywall ceiling is too water-damaged to bother replacing, or when we've outgrown the space. (Or perhaps it will be converted into a gymnasium?) A graphic identity is impermanent, too — if we don't like it several years from now, we can change it or ditch it. No harm done. By contrast, a stained glass window may outlast the building it is installed in; a painting can last for a millennium if it is well maintained. Churches and works of art used to be made with longevity in mind. The artists were not making art for themselves, but for future generations of Christendom. Naturally, only their best would do.
I'm interested in seeing if, when, and how the experiential gap between commercial art and liturgical art closes. More churches are waking up to the fact that having some kind of an online (and unified graphic) identity is a necessity these days. Will the realization that an online image matters lead them to consider the visual aspects of their physical place of worship? Or will it lead to an overemphasis on the superficial aspects of "image," without consideration of content, symbolism, and the didactic qualities of liturgical art? In any event, I'm determined to play a part in the outcome, with God's help.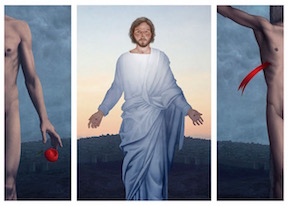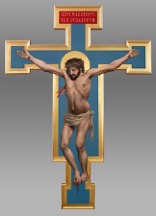 For more images of Mayer commissions:
http://www.scapegoatstudio.com
---
What Does a Commission Do? by William Bukowsi,
from Mankato, Minnesota USA
I received the commission to paint an altarpiece in 1995. The building committee and the Board of Regents from Bethany Lutheran College decided to have original artwork in their newly built chapel. I was asked to put together some ideas and sketches for how I envisioned this altarpiece. Naturally the life of Christ was the subject, and when closed, the altarpiece would show Bethany's motto, "The One Thing Needful." I presented my ideas to the Building Committee in the form of oil sketches and drawings and got permission to proceed.
A commission first of all is a sign of praising God. What a thrill it was to have this opportunity at the place where I work. We see the artwork every day in chapel and preachers often use it to illustrate homilies. It is especially moving to see the way the altarpiece is used in the Christmas service with the choir. Now, twenty years have passed since this altarpiece was installed and dedicated. How many students and faculty and staff have had their worship enhanced by the artwork?
A commission designates the beliefs of the people who use the sanctuary. In our image saturated culture, why not proclaim the glory of God? Or the life of Jesus? A blank wall does not say anything about our beliefs. Recently one of our visiting parents, upon walking into our chapel said, "Now I know I am in the right place!"
A commission is a collaboration between the congregation and the artist. The artist is empowered by the people commissioning the artwork. The congregation does need to be sensitive to the time and costs of labor and supplies. A typical attitude is that since it is for the church, it should be free or nearly free. A carefully designed work of art with premium materials will last many years. To create this altarpiece, I needed to secure models, costumes, have a cross built, and photograph all of my source materials. The canvas was Belgium linen with rabbit skin glue and oil priming white paint and the oils were all professional grade. So there was a considerable investment before I laid a pencil or brush to the project. When it is viewed, one cannot see the age of the artwork.
The results have been edifying the worship experience every day since.
I would welcome questions or comments about the possibilities of new art in the church.
Soli deo Gloria
For more images of Bukowski commissions:
http://www.bukowskipainting.com/commissions.html
---
Translate this page into your language
Return to original language with "show original" button at top left.