Students frantically gathering confetti, putting on costumes, and running into each other at every turn in the hallway. I remember sprinting down the school hall with my camera, yelling "Three minutes!" and seeing teachers wide eyed with their backs pressed against the wall, not knowing what to do. The entire school was coming together to do something awesome —shoot a lip dub. Winnebago Lutheran Academy's student body, faculty, and staff had so much fun doing the lip dub, and it spread like wild fire, getting over 7,000 views in a week.
This lip dub, along with the three that followed and my photography job at Martin Luther College have taught me a large truth when it comes to using Christian media to reach out to a non-Christian audience. Those people that aren't part of Christian circles don't necessarily want to see a meaningful video about the morals and beliefs a Christian school has to offer. They want to see something fun, engaging, and energetic. Quite often this media is different than something that the Christian audience would expect to see.
So what does fun, engaging, and energetic media look like? The answer is easy: it's full of smiles, movement, and very fast pacing. Showing a non-Christian audience that Christians are just normal, happy, smiley people is huge. It breaks down a barrier that, in my opinion, gets put up all too often. The way to get smiles into a video can be a joy to film. Be that crazy person behind the camera, because when you are having fun, the people in front will reflect you and make the video that much more fun.
Professional video grabs anyone's attention. Camera movement adds to and makes a video look professional. I've used a glidecam in almost every single video I've shot since that first lip dub back in 2013. The great part about glidecams, steadicams, or any other camera stabilizer is that they make it easy to pull off professional cinematic shots. It's captivating to the audience, especially since people are bombarded with videos left and right on social media. The bottom line is this: making a video for a Christian establishment look as professional as possible will be more appealing and engaging to a non-Christian audience than a video that looks like a home movie.
Think back to the last time you were watching Youtube videos. Did an advertisement pop up? Did you skip it after the five second wait time? Most people do, because either the product in the ad isn't appealing, or the first five seconds that you are forced to watch didn't grab your attention. Occasionally I will watch all two minutes or so of an ad because the first five seconds were that good. They grabbed my attention. Maybe there was a gorgeous shot in the beginning, or the first five seconds were cut rapidly. Strive for that impressive of an intro in your video. When you captivate the audience in a short amount time, it gives you freedom to tell your story. That could be an exhilarating message about your school or congregation. The main point is you have your audience's attention now. If you managed to hook a non-Christian audience to a Christian video, you've already succeeded.
Now that your audience is pulled in, strive to keep them entertained. Energetic media is almost always comprised of short and fast clips of the smiles and camera movement previously mentioned. Your Christian media should also always tell a story. Something I aim for in each video is to have one big hit-point. Maybe it's this super cool shot of an entire student body, or some grade-schoolers cheesing for the camera. Either way, build up to that point just like an author uses rising action to propel a reader into the climax of a story.
You've got your video now. It grabs the audience's attention, Christian or non-Christian, builds up to a climax, and shows your Christian establishment in a good light. It won't do any good if your video is never seen by a non-Christian audience. Let's get it to them. Social media is your friend. It has become a dominant power on the internet and is at the center of many people's lives. If you're dealing with video you'll probably mainly use Youtube. Make sure your video is wide open to the public so anyone can watch it. From Youtube you can link to your video on Facebook, Twitter, and Instagram. I view these as the big three.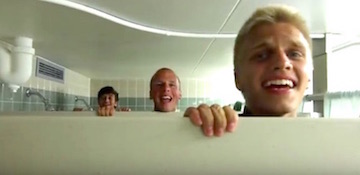 Facebook is full of click bait, so I actually suggest being even more click bait. Your title or short description has to be just like the first five seconds of your video and grab a prospect's attention. A title like "St. Matthews Lutheran Grade School" will probably get far fewer clicks than a video titled, "Grade School Students Get an Hour of Free Time and Go Insane." Obviously I'm exaggerating here, but you get the point. It all goes back to what I said at the beginning, give non-Christian audiences what they want to see, not what your Christian audience expects to see.
Most Christian establishments have a larger following on Facebook than on Twitter or Instagram, but don't forget about those two. Many younger viewers use Twitter and Instagram instead of Facebook. Twitter needs to be short and to the point. That's just what people expect and how it works. Instagram gives you an opportunity to hook an audience with a thrilling picture. Use a frame from the video that shows what kind of video it is. Grade schoolers cheesing is always a big hit. Or maybe something unexpected like a pastor dancing.
With some patience and sharing, your media will make the rounds to other audiences. Most of the time it is completely unexpected. In September 2014 my friends and I made a video that we expected to get about a thousand views and then taper off. As of January 2016 it has over 200,000 views. It's an incredible blessing that has led to many other ideas, videos, and relationships.
So don't give up. Push always to create better content. If you strive to have a consistent flow of content your follower base will increase to parts of the world you'd never expect. Suddenly your small Christian establishment can reach out to an audience halfway around the earth and tell people the good news of the Gospel. And isn't that the ultimate goal?
Link to video pictured in top photo.
Link to video pictured in bottom photo.
---
Translate this page into your language
Return to original language with "show original" button at top left.